When you are building a website and business online, you will most likely be wanting to use a page builder as you develop your skills and by using a page builder, you can give your site a real lift to a new level of professionalism.
So What is thrive Themes?
Let's look into this program in more detail as you go through this post so you can determine if Thrive Themes is what you need moving forward with your business growth.
What is Thrive Themes?
Thrive Themes was founded back in 2013 by Shane Melaugh and Paul McCarthy and these 2 men have created and built Thrive Themes to help 1000's of people all over the world build better looking, fast converting websites and they offer some pretty great features for their products.
Features
Landing Pages: Create professional-looking landing pages with over 220 templates to choose from and build in minutes without needing to know coding or any other technical stuff. So easy to use and so beneficial to online marketers and any niche.
Thrive Leads: Build your mailing list faster using Thrive Leads. This plugin is updated and perfect for bringing your business loads of leads.
Thrive Architect: Drag n Dop building making your job quicker and easier so you can keep working on growing your business online. Create Sales Pages, Posts, and loads more with the ease of drag n drop.
Clever Widgets: Clever Widgets acknowledges the simple fact that your website visitors are telling you a lot about themselves simply by which posts and pages they are looking at. With the Clever Widgets plugin, you can now determine precisely where your widget content should be shown to visitors, based on categories, tags, post types and even down to include and exclude rules for specific pages. This means a lower bounce rate and more conversions.
Thrive Ultimatum: Creating evergreen countdown campaigns.
Thrive Ovation: An easy way to gather testimonials that are beneficial and create trust with people.
Thrive Quiz Builder: Often creating a quiz to interact with visitors is great as it can help gauge what people are needing to help them so why not do it with a quiz.
Thrive Comments: Helping to make commenting fun and engaging.
Thrive Optimize: This is where you get your a/b testing done through Thrive Optimize so you can easily track what is happening with your business.
Pricing
I was really happy when I checked out how much Thrive Themes charge for everything they do for Online Marketers and I am really happy to share the pricing chart with you today and I am sure you will be pleased as well as it is so reasonable, especially with what is offered for these prices.
And once you have tried it, you also have the option of deciding it's not for you and there is a refund policy which is a money-back within the 30 days period offered.
During this time, You will have all the products within Thrive Themes to use to get going and taking your business to the next level.
Thousands of top Online Marketers use Thrive Themes and love these products they use.
Here are a few screenshots so you can see what people are saying.
There are loads more testimonials on Thrive Themes Website and some really excellent comments from happy customers.
Integration
Here are all the places you can integrate with as you need to with Thrive Themes.
The image may be a little difficult to see but it definitely shows loads of different programs for email marketing, Social media, and of course video marketing and webinars. All of these are going to give added value to your business and help grow it exponentially.
Creating an emailing list can really give your business huge growth and by using the thrive Theme products, You will be able to take your business to the level it deserves.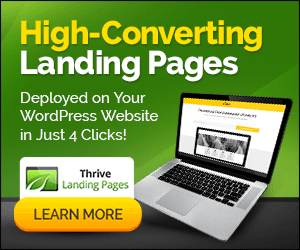 Price changes
When you join Thrive Themes for the price shown above, this price will NEVER go up and I feel this is incredibly generous as so many places offer you a price to join, and then down the track, you are asked to pay more, especially at the renewal date.
With Thrive Themes your price will not change once you have joined and after each year, you will pay the same price to keep using all their really great products.
New To Online Business Building
If you are new to the Online business building world and you need the training to teach you all the tips and tricks to use please read this post I wrote by clicking here.
Learning the ropes isn't hard but from my experience, it is always great to be taught by experts to make sure you learn correctly so you can become truly successful online.
If you are new to business Building Online then I suggest you don't get thrive themes until you learn a few skills 1st, unless you are quick to learn, and then Thrive Themes will be great for you and the development of your future online.
Summary
I rate Thrive Themes a 9/10 and highly recommend this page builder to anyone who wants to take their business to the next level and the next level after that, as Thrive Themes really does offer superb products and support as well which is important as you build.
Having training videos, tutorials and support is vital for learning, and Thrive Themes offer all of these things to make it easier for people to get started and create really great marketing products online and I hope you go take a look to see if Thrive Themes is right for your business growth.
Thank you for reading this post and if you could do me a favor and please leave a comment that will be great.
I write a lot of reviews here in Money and Freedom Online and it is so much fun writing about great products and when people ask me what is thrive themes, I can honestly say- Thrive Themes is one of the best page builders and so much more for every Online Marketer to use to boose your business.
Until next time
Vicki Crawford,